Completing and keeping your Google Business Profile accurate is important if you want to earn trust, boost brand awareness and convert views to visits and purchases. While your NAP, category and other primary business information are paramount to improving your rankings, there are other parts in your profile that you can bank on to help you achieve your goals. Google Business Profile attributes are one of those parts.
We've previously discussed attributes in a previous blog but we'll dive in deeper here.
What are Google Business Profile Attributes?
Google Business Profile attributes are additional descriptors that your business offers in order to give customers a better idea of what you do. These can be specific services, additional offerings or certain characteristics that customers are looking for to make informed decisions before going to your physical location.
They appear on your Knowledge Panel/Graph on organic search results just above your address and underneath your primary information in Google Maps results. When you click on a Profile on Maps to view more information, you'll see the attributes also above the address. The arrow next to the visible attributes allows you to view more types.
While many attributes are available across almost all categories, there are some that are exclusive to a specific primary category. For example, if you own a Japanese restaurant, you can add "Spicy food", "Small plates" and "Vegetarian options" as attributes. On the other hand, if you run a pharmacy, these won't be available. So it's important to get your category right to be able to get the relevant attributes for your business.
Benefits of Adding Google Business Profile Attributes
Our number one best practice at DigitalMaas is to keep all listings updated, completed and accurate – including attributes. These may seem like secondary functions on your Profile but they have two very important benefits:
1. Keeping your business relevant in searches
Adding the right attributes helps you rank up in local search results. Why? Simply because with the right attributes, you'll appear as a relevant find for the searcher. You may be a bit farther away from the person performing a search but if Google's algorithms detect that your business may be something that person is looking for, then they'll add you to the list.
2. Improving your online brand reputation
Furthermore, Google Business Profile attributes contribute to a better customer experience, thereby improving your online reputation. Your potential customers are looking for you – so the more complete your attributes are, the easier it is for you and your customer to find each other.
How do Attributes Work?
It may not look obvious at first but Google Business Profile attributes help potential customers narrow down their discovery search for a local business.
Think of them as qualitative keywords that help you show up on Maps and Search results and the Google 3-Pack. This may also trigger related ads to show up on the 3-pack, as seen in the screenshot below.
Let's say you're one of the many Asian restaurants in Sydney CBD that's open for takeaway or delivery and accepts card payments. A customer can make a quick Google search, such as "Asian restaurant takeaway Sydney" and you'll most likely pop up either in the 3-pack if you have enough prominence and are nearer to the person searching or within Google Maps results. They can check further if you have other characteristics that they want to see in their ideal restaurant and, once they've decided to buy food from you, they'll take the necessary actions to order takeaway.
On the other hand, some Google Business Profile attributes may not show up on results even though a customer's typed them on the search bar. This doesn't mean they're irrelevant. Google can still collect listings and compile them into the local search results, as long as you have that attribute ticked on your Profile. Other factors such as customer reviews and your Google Posts can contribute to your ranking. Take a look at a search we did for "LGBT friendly cafe Sydney" – while you can't immediately see the attributes you typed in as snippets, you'll still get relevant results.
Types of Attributes
Google groups Google Business Profile attributes into several types so that businesses can easily select which ones are most relevant to their business.
Accessibility – attributes describing accommodations for persons with disabilities, particularly for wheelchair-bound people
Activities – recreational things to do in resorts and country clubs, for example
Amenities – facilities available, specifically in hotels, B&Bs and other accommodations
Crowd – types of people welcome in establishments
Dining Options – dine-in/takeaway/delivery setups that are available in your restaurant
Health and Safety – features that ensure your customers and staff are safe from any illnesses
Highlights – similar to amenities, highlights are key features or facilities that you want to be known for
Languages Spoken – languages used in a location to provide more confidence and comfort for non-English speakers
Lodging Options – types of rooms available or other features that are not amenities
Offerings – additional details about your business (varies from category to category)
Payments – types of payments accepted by an establishment
Planning – attributes that help customers plan their visit to your physical business
Popular For – similar to highlights, these are features of your business that give you a competitive edge
Service Options – additional services that your business may have to support customers
For a non-exhaustive list of attributes under each of these types, read up on our basic guide.
"Hidden" Attributes
Despite having a long list of Google Business Profile attributes available to a variety of categories, there are "hidden" attributes that local guides provide. On Google Maps, users can answer questions about a location in order to help other customers.
Like always, depending on your category, these questions may vary. Below is a non-exhaustive list of questions that Guides are most likely to answer on behalf of your business.
For Restaurants
Does this place attract a trendy crowd?
Would you consider this place inexpensive?
Does this place have good views?
Is this a good place to bring young kids?
Does this place have fast service?
For Bars
Does this place attract a trendy crowd?
Is this place good for dancing?
Is there a dress code here?
For Hotels
Is this place good for a weekend getaway?
Does this place offer budget accommodations?
Is this a good place to bring young kids?
These may also be known as "subjective attributes" as they are user-generated sources answered by Local Guides or people who frequently go to that location and are active on Google Maps. You'll usually see these types of attributes in your Insights dashboard on the Google Business Profile manager or on Search (as long as your logged the account linked to GBP).
Due to COVID-19, Google often places more relevant questions regarding your service options (if you deliver or offer takeaway) or if you practise safety and hygiene protocols.
Choosing Which Attributes Best Fit Your Business
Most businesses can easily select which Google Business Profile attributes depending on what services they offer. But some may be "grey-area" characteristics so it's best to take a quick step back and see how you and your customers perceive your establishment. You can ask yourself the following questions to guide you in making the right choice.
What payment options are available in my location(s)?
Is my location PWD-friendly? If so, what are the features that I need to tick on my Google Business Profile?
How is the crowd like in my location?
Do I have representatives that speak another language aside from English? Do I have customers who are not comfortable speaking English?
F&B establishments: What other dining services do I offer?
Is my location following the prescribed health and safety protocols as mandated by my national and state government?
Do I require my customers to make reservations or appointments before going to my establishment?
Based on what I hear, what else is my establishment known for?
Hotels: What other amenities does my establishment offer?
Accommodations: Are there any activities that I'd like my customers or future guests to know about on my Profile?
NOTE: This will depend on your category and not all Google Business Profile attributes will be available.
Are Attributes SERP Ranking Factors?
Ranking factors are a list of criteria that search engines apply when compiling a list of search results. For your business to rank high (meaning, appear on first page and dominate the top 10 search results), you'll need to make sure that you have:
A Google Business Profile
A complete and accurate NAP (Business name, Address and Phone Number)
The right primary category
Descriptive keywords in Google Posts, customer reviews and your business name
Positive customer reviews and a high star rating (anything above 4 stars)
So, where do Google Business Profile attributes fit into all of this?
Do they help in rankings? Yes, they do.
Attributes help you get in front of your customers when they perform a search. Multiple relevant attributes mean you have more chances of showing up in searches. This means that you are more likely to show up when someone's looking for a "family-friendly hotel in Hunter Valley" than "hotel in Hunter Valley". This much we can say: attributes help you rank for specific searches.
But are they ranking factors? Kind of. To be really formal about this, attributes fall under the Relevance ranking factor, something we have discussed in a previous blog.
How to Add Google Business Profile Attributes
Both single and multi-location businesses can benefit from signing up on the DigitalMaas Platform to be able to add these attributes. While, yes, you can add attributes on the Google Business Profile manager, one of the biggest benefits of the Platform is that you can select more than one location and perform bulk edits. Here are 8 easy steps to add attributes to your listings.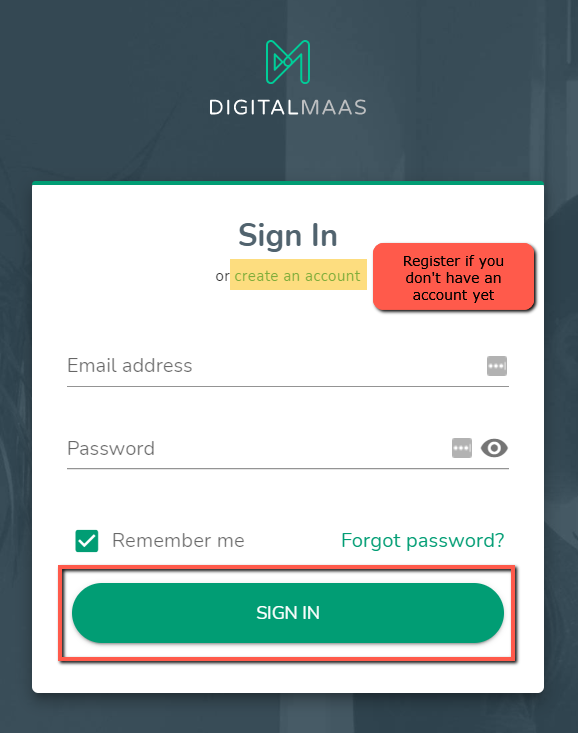 1. Sign in to your DigitalMaas Platform account. If you don't have one yet, you can register – contact us for more info on how to sign up.
2. Once logged in, you'll see your dashboard. On the left-hand panel, click Locations (2). You'll be directed to the Locations Overview.
3. Select which locations you'd like to edit by ticking the boxes at the left of your business name and address (3 – option 1). You may also select all locations on that page or all locations using our select all tickbox (3 – option 2).
4. Once you've chosen your locations, click Edit (4).
5. From the drop-down menu, choose Attributes (5).
6. You can finally choose the appropriate Google Business Profile attributes available for your listing (6). You can tick which attribute is true about your business and mark an attribute in red if it is false. You can also choose not to mark attributes if they do not apply to your business at all.
7. Once done, click Review (7).
8. Double-check the changes you made and to how many locations. Once satisfied, click Submit.
It might take 1-3 business days for Google to reflect this change on your Profile. If this will be the case, check on your locations if they have been updated.
"Why can't I update my Google Business Profile attributes?"
In case you see the message above when choosing attributes, click X and double-check your primary categories if they are all the same. You may choose to unselect those that are of different categories or change them. If you choose the latter, please do the following:
Instead of choosing 'Attributes' from the drop-down menu of properties, select 'Categories'.
Change the primary category. You may choose to add more categories but if you're satisfied, press Review.
Double-check your new primary category and press Submit.
Conclusion
Google Business Profile attributes are important in any and all listings because they help businesses rank better in Google Search and Maps results and improve their online brand reputation. They tell customers what a specific business offers, such as amenities, dining options and the type of crowd they cater to or serve. There are several attributes to choose from but are dependent on your primary category. Overall, it's important that you fully optimise your Google Business Profile listings and add as many relevant attributes as possible to get you ranking high and getting customers to visit your location.
Optimising your Google Business Profile is absolutely possible on the DigitalMaas Platform. Our bulk editing feature allows brands with multiple locations to quickly add in attributes without having to go into each and every listing to make the necessary changes. In short, we've made it easier, faster and better for businesses to be the first choice on Google. Sign up for an account today to rank high in search results and stay on top of your customers' minds.